01 02

03 04 05 15 16 19 20 21 22 23 24 25 26 27 28 31 32 33 34 G and I have been together for nearly 7 months now and it's been one hell of a journey with him! Through my ups and downs, he has always been by my side and provided me the support and love I need. To commemorate our monthsaries, we've made it a point to try various restaurants throughout the city. We usually alternate between who's paying the bill so it would be fair between us.

For the past 6 months, we have celebrated our monthsaries here:

June 17, 2014 - Feria, Radisson Blu
July 17, 2014 - Cafe de Geneve
August 17, 2014 - Grand Majestic
September 17, 2014 - Marco Polo
October 17, 2014 - Cafe Georg
November 17, 2014 - Marco Polo (breakfast buffet)

We love to eat and trying out buffets is an experience we enjoy doing together. With this, I've decided to share some information on the best buffets in Cebu City.


Cafe Marco (photo from Facebook page)


Cafe Marco, Marco Polo Hotel

Marco Polo Hotel's Cafe Marco has been named as the best buffet in Cebu. Although they have a pricey dinner buffet, the choices are enjoyable and an interesting array.

Location: Nivel Hills, Cebu City
Contact Number: +632 253 1111
Price: P 1,345 net per person
Operating Hours: Breakfast (6:00am - 10:30am), Lunch (12:00pm - 2:30pm), Dinner (6:30pm - 10:00pm)
Why You Should Go: They have lechon, oysters, Peking duck, and steamed crab on a bed of ice. Plus, the seats are very comfortable and the venue is well lighted.


Feria (photo from Radisson Blu website)


Feria, Radisson Blu

Feria in Radisson Blu is another favorite buffet restaurant. Every time we visit, the place is always packed with guests so it's really recommended to get a reservation. The food is great and the options are aplenty!

Location: Juan Luna Avenue, Cebu City
Contact Number: +632 402 9900
Price: P 1,550 per person (50% off promo every Tuesday, Thursday, and Saturday)
Operating Hours:
Why You Should Go: They have a halo-halo bar where you can make your own halo-halo. Their desserts are good. My personal favorite is their cheese station!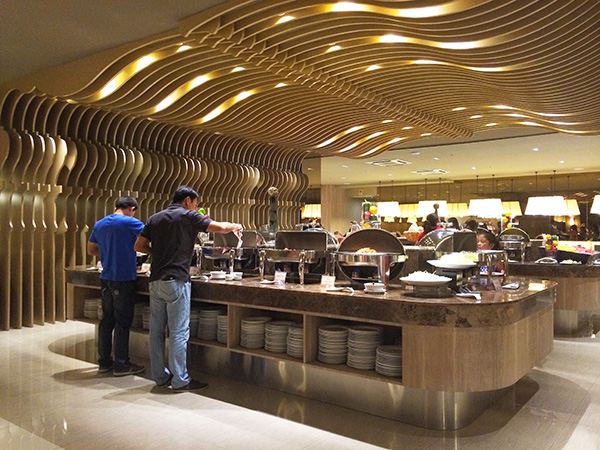 Grand Majestic

Having re-opened earlier this year, Cebu's Grand Majestic has been the epitome of fine dining buffet restaurants for years. At first glance, you'd think they simply served Chinese food but there's actually more to them than just Chinese treats.

Location: Grand Convention Center of Cebu, Archbishop Reyes Avenue Cebu City
Contact Number: +632 260 8000
Price: P 499 (Lunch), P 599 (Dinner)
Operating Hours: Lunch (11:00am - 2:00pm) and Dinner (6:00pm - 10:00pm)
Why You Should Go: Delicious ribs and selection of Chinese cuisine. The red velvet cake is superb! Drinks are included in the buffet price.

Back in Manila, my favorite buffet was Viking's. I'm so thrilled that they'll be opening a branch here in Cebu soon!

I will be adding more to this list soon since we've actually been doing some research on where we should celebrate our 7th monthsary. Any suggestions?

By the way, G's paying this month! ;)

Labels: Breakfast, Buffet, Cafe Marco, Dinner, Feria, Grand Majestic, Lunch

35 36 37 38